Steel Curtainside SLIDING TRAILER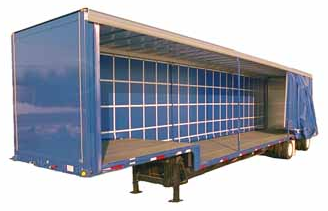 Your rugged steel curtainside sliding door trailer opens and closes in mere minutes, ready to load and unload, and eliminates traditional flatbed tarping with the ease of closing the curtains.
You Can!
The SSI Model CS Curtainside has several exclusive features which sets it apart from the competition:
The Quick Closure releases to allow the curtain to be opened from either end in seconds, then when its time to close it back up it simply snaps back in place and the curtain tension is permanently set!
The Rolling Post supports the roof and rolls in a channel next to the curtain rollers, so it is always attached to the trailer. Simply slide it out of your way for loading and unloading and slide back into place when finished.
The Versa Rail is a strong 6" extruded aluminum and provides the channel for both the curtain rollers and the unique Rolling Post
Features
Amazingly durable curtains made from PVC coated Polyester
One-piece aluminum roof
Swing type rear doors with standard hinges and lock rods.
Steel framed FRP front wall
The superior design and quality workmanship of the SSI Curtainside ensure that your system will be durable and reliable for many years to come.
Advantages
Custom engineered to retrofit virtually any trailer or platform
Can be built even to 53' at full height
Curtains available in a variety of colors
Custom artwork available (ask about our special artwork discount)
Steel Formed angle kit: Our custom engineered kits can be shipped to your location for installation on existing units or newly built units.
Save